The Students Organising for Sustainability survey (2021) revealed that there is a strong desire from students to work for organisations that perform strongly in relation to sustainable development.  It is estimated that 75% of the working population will be millennials by 2025, which makes the case compelling for organisations who need to attract and retain this growing pool of talent, to address sustainability.
Graduate and Employee support
Our mission is to develop partnerships with our employers, sharing our understanding of what graduates want and how to become an employer of choice. Nottingham Trent University (NTU), like all universities, help employers connect with talent. However, at NTU we also provide support to help employers to attract, select and retain that talent. We recognise the business imperative for businesses to act on climate change, not only to help their business succeed, but also to help them attract and retain early career graduate talent. Here we share a number of initiatives that NTU's Employability Team are currently leading on.
As part of a wider Sustainability in Enterprise project, Employability successfully launched the Sustainability Community Lab (SCL) programme. The goal of the programme is help SME businesses become more sustainable, by empowering their recent graduate hires to drive change within their organisation. Through a series of six SCL workshops, the graduates not only gain knowledge and skills, but they also develop a business proposal for their organisations. We have supported 51 organisations to date, who have crucially gone on to adopt and integrate sustainable practices within their business and build and promote new or improved sustainability credentials. 'I found the programme to be empowering to strive towards sustainability in business. I found that I gained knowledge on how to work out how to make the business more sustainable rather than being given the 'answers' for my business. This course has sparked a movement within the business which I hope will make an impactful difference on our sustainability.' Meg Day – SPG Innovation.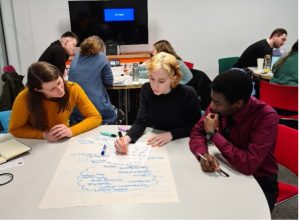 NTU's Sustainability Community Lab.
NTU's Employability team are also getting ready to launch our Employer Sustainability Toolkit. The toolkit is designed to support organisations embed sustainability into their brand attraction, recruitment, and selection processes. It includes easy to access resources, hints and tips, exemplars, and how-to guides for employers. The toolkit will be freely available on our website soon, maximising exposure to as many businesses as possible.
Student support
Developing our student's knowledge and understanding of sustainability is an important aspect of their learning journey at NTU. To support that, Employability have created the Sustainability Employability Award. After completion, students receive confirmation of this on their HEAR transcript, which they can then present on their CV, as a way to differentiate themselves from their future competitors.
To achieve the Award, students complete mandatory and optional activities to accumulate points to reach bronze, silver, then gold levels. All start with the NTU's Sustainability in Practice online course, in which they link the SDGs to their academic discipline, focusing on food, energy or clothing. Silver allows for personalisation in the activities, with a menu of extra-curricular opportunities.
The activities completed by students undertaking the Award go beyond 'environmental' sustainability and cover a wide range of SDG-related opportunities, both inside and outside the university. These activities potentially have a positive impact not only on themselves, but on society at large. Examples include:
Local community volunteering: working with local groups such as food banks and local schools (vertical gardening, workshops and a sustainability storytelling club)
Behaviour – personal and beyond: within the optional carbon literacy training, participants focus on reducing their own emissions, and encouraging others to do likewise (employers, family, students and course teams)
Moving forwards
We recognise there is a lot of work to do. We are committed to making a difference and have recently set up a Sustainability Steering Group to help drive our plans forward. Partnering with the Sustainable Recruitment Alliance will help us to keep at the forefront of this important agenda and to continue to champion sustainability.
A little bit about us
Nottingham Trent University was established in 1843 and has been classed as one of the greenest universities in the UK for the past eight years. It has also been ranked amongst some of the world's most sustainable universities. As a university we recognise the significant impact on the world around us, especially being one of the largest universities in the UK, with over 33,000 students and 4,000 colleagues.